Dog ACL/CCL Surgeries
Eau Claire • Minneapolis • Madison
The VERY BEST options for your dog's ruptured ACL are just a short drive away!
Experienced Surgeon
Dr. Woods at Rice Lake Animal Hospital has extensive experience in dealing with dog ACL injuries -- having performed 250-300 dog ACL surgeries a year for the past 18 years. We offer relatively fast service. Your dog's surgery can typically be scheduled in one to three weeks.
Reasonably Priced
The drive to Rice Lake is worth it. Not only do you get an expert surgeon, you may also benefit from significant cost savings compared to having a dog ACL surgery performed in a metro area such as Minneapolis, St. Paul, or Madison. Your pet will likely be discharged the same day with no overnight stay required.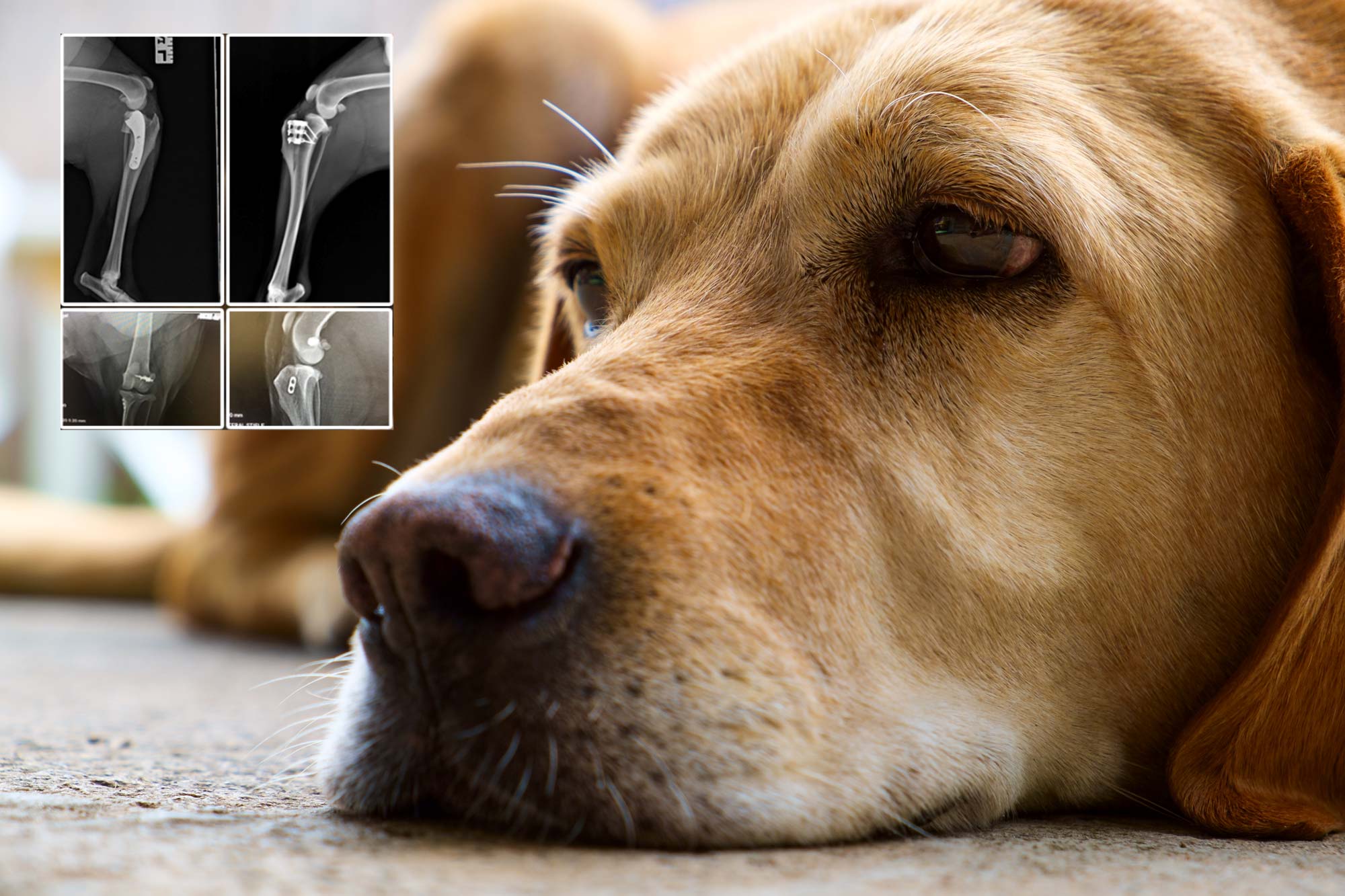 Once a licensed veterinarian diagnoses your dog with an ACL/CCL rupture and it is decided that surgery is the best option for your dog, there are three main orthopedic procedures with some variations to repair an ACL tear: a lateral suture technique, Tibial Plateau Leveling Osteotomy (TPLO), and Tibial Tuberosity Advancement (TTA). All three options have their pros, cons, and risks. Dr. Woods will discuss the options in detail with you.
ACL Recovery + Post-Op Care
You will need to keep your dog somewhat quiet and still for 8-12 weeks post-op. The post op care is essentially the same no matter which procedure you choose.
---
View Post-Op Care Instructions
Comprehensive Pricing
There are no hidden costs. All prices include surgery, medication, post-op follow-up visits, and x-rays. However, prices do not include any unforeseen complications, which are rare.
Lateral Suture Techniques
Generally reserved for dogs that are 40 pounds and under, the lateral suture technique (extracapsular repair) involves replacing the torn ligament with a synthetic suture on the outside of the joint.
Tibial Plateau Leveling Osteotomy (TPLO)
TPLO changes the geometry of the knee so that the ACL/CCL is not actually replaced. The lower leg bone is cut, rotated, and plated resulting in a flatter surface for the upper leg bone to rest on.
Tibial Tuberosity Advancement (TTA) Rapid
TTA also changes the geometry of the knee (so that the CCL is no longer necessary) by stabilizing the knee joint. During this surgery, a linear cut is made along the length of the front part of the lower leg bone. The cut bone is moved forward and a titanium orthopedic cage is placed within the space of the cut.
I am so thankful for the care we received from Dr. Woods! After the devastating news that our puppy had two ruptured CCLs, many friends had recommended Dr. Woods for her surgical needs. From day one, I could see why he was so highly recommended. He was super informative, caring, and kind to our puppy. I appreciated how much time he spent explaining her condition in a way we could understand. Most importantly, with his excellent surgical skills and genuine care, our puppy is now going to live a happy and pain-free life. We will be forever grateful for Dr. Woods and the staff at the Rice Lake Animal Hospital.
Brittany Geissler from Stanley, WI
I drove from Eau Claire to have an ACL surgery on my golden retriever. Why did I drive an hour to get this done when I could have had it done in town? After talking to my local vet, I found out they bring in a doctor from out-of-state to do the surgery. This was very expensive so I started to look for other options. A friend recommended Dr. Woods. I couldn't be happier! Dr. Woods called me personally multiple times to go over the surgery and what to expect. The surgery was not only better than what is offered in Eau Claire but the cost was much less. The professional staff and Dr. Woods have been great throughout the entire process and still contact me regularly to see how my dog is doing. That's why I used Rice Lake Animal Hospital. Top-notch personalized service, much better prices, and a very happy and healthy dog!
John Kreiner from Eau Claire, WI
Dr. Woods and his staff at Rice Lake Animal Hospital have performed two ACL (TTA Rapids) surgeries on our dogs. The diagnosis, the surgery, and the aftercare they provided on both occasions were second to none! The state-of-the-art facility, equipment, and procedures utilized by Dr. Woods and Rice Lake Animal Hospital made this an easy choice for us. Both surgeries and recoveries went perfectly as explained by Dr. Woods. Our dogs are both back to 100% and doing great. We would not trust our dogs' health to anyone other than Dr. Woods and his staff.
Todd Smith from Rice Lake, WI
Our two-year-old yellow lab Kip developed difficulty walking, running, and getting up and down. After bringing him in for imaging, we learned he had torn his CCL in both rear legs and would need bilateral TPLO surgery to regain function. Research and recommendations led us to Dr. Woods, even though we reside in West Salem, WI -- over 2.5 hours away. From the start, Dr. Woods was knowledgeable and professional. He provided education on the process so we knew what to expect. Dr. Woods and his staff went above and beyond to accommodate us when traveling such a long distance to appointments. Dr. Woods was diligent and checked in often to monitor our dog's progress once we returned home. Our dog has made a full recovery and is now running and moving better than he ever. We highly recommend Dr. Woods to anyone who is looking for the best care for their companion.
Zach Ellis from West Salem, WI
Payment Options
During each visit, a doctor will provide an estimate of fees for services and answer all of your questions. If any diagnostic tests or treatments are recommended, they will be discussed with you. We understand the costs of emergency and specialized veterinary care may be unexpected.
Please call (715) 234-4709 any time with billing questions.
We offer several convenient payment options including cash, check, and credit card as well as CareCredit financing.